Stirring up the Mound
So how does one diminutive company create a marketing swarm amid more than 13,000 oblivious attendees? It uses its eye-catching orange hue to represent the brand, and it conjures unique off-floor activities to infest the trade show with its message. But to fully harness the power of the swarm, Jacobsen sought to convince 2,000 attendees to wear orange wristbands, thereby stirring up a whole new colony of avid supporters to help blanket the show with the company's corporate orange hue.

So prior to GIS, Jacobsen bought 2,000 orange, branded wristbands that it intended to hand out to attendees. To prompt them to wear the bands during the show — and thus grow its presence — Jacobsen would position roving brand ambassadors throughout the convention environs, where they'd distribute free "Orange Everywhere" T-shirts to anyone they spotted wearing an orange Jacobsen wristband. But before show goers could be tempted to wear the branded bracelets, Jacobsen had to first get them in attendees' hands. So the marketing team decided to use its hospitality event, held Feb. 5, the night before the show opened, as a key band-distribution point.
Roughly four weeks prior to the show, Jacobsen sent all of its U.S. dealers two tickets per salesperson. The 2-by-4-inch tickets, which were housed in white envelopes bearing Jacobsen's logo paired with the words "Orange Everywhere," invited recipients to a Gaslamp Quarter nightclub called Fluxx for "an unforgettable evening of entertainment."
Each Jacobsen salesperson then hand delivered invitations to two existing customers. This simple, personal act helped salespeople — many of which were new hires — establish or foster important relationships with key customers, who no doubt appreciated the fact that they'd been personally chosen to attend.
On the evening of the event, ticket-bearing Jacobsen customers made their way from their hotels, most of which were within walking distance of the event venue, to Fluxx. But before they even reached the club's front door, they were assaulted with Jacobsen orange.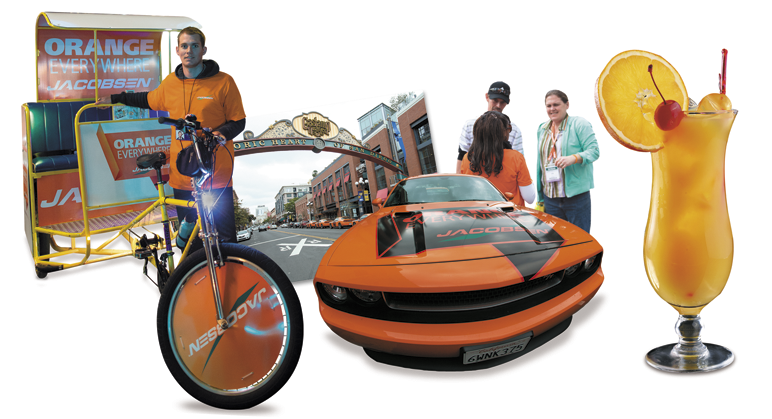 First, they spotted the orange Jacobsen logo projected onto the exterior of the Hard Rock Hotel, positioned just inside the arched entrance to the Gaslamp Quarter. Next, guests' eyes were drawn to five orange Dodge Chargers that were parallel parked in front of the Hard Rock. Together with the logo, the cars, which were each emblazoned with Orange Everywhere logos on their doors and hoods, seemed to brand the whole district as Jacobsen territory.
Once customers dragged themselves away from the cars and to the entrance of Fluxx, Jacobsen staff in branded orange T-shirts exchanged attendees' tickets for orange wristbands and instructed them to wear the bands throughout the show to score free stuff from brand ambassadors, who would also be dressed in (yup, you guessed it) Jacobsen orange. Inside the venue, attendees discovered a contemporary yet nature-inspired theme and of course, the Orange Everywhere logos, which were, well, everywhere. Jacobsen projected the logo onto the walls and over the entrance area, branded custom napkins, and even specially crafted orange-colored drinks.
All told, 930 people — a truly remarkable 93 percent of those invited — showed up for the event, where they imbibed on free beverages and appetizers, danced the night away while a DJ spun tunes, and drank in the Orange Everywhere message. But as attendees exited the club, the orange theme popped up again. Ten Jacobsen-branded pedicabs, whose bike operators sported the now-recognizable wristbands and orange T-shirts, offered guests a complimentary lift back to their respective hotels.
So before the show floor even opened, several existing and prospective clients already had orange wristbands, creating a curiosity factor for those attendees not invited to the event. And adding to Jacobsen's own pre-show social-media efforts, which included Facebook and Twitter posts hinting at a coveted wristband and freebies, countless event attendees generated their own social-media posts featuring pictures of the pedicabs and Dodge Chargers. Thus, come Wednesday, Feb. 6, when the show-floor doors were flung wide, nearly 1,000 people had already joined the swarm, and thousands more were about to take notice.